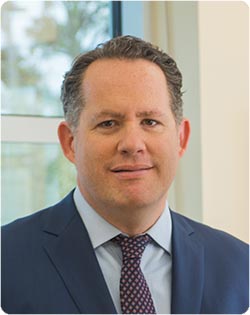 Mitchell D. Terk, MD
Medical Director
Dr. Mitchell Terk is a board-certified radiation oncologist with more than 25 years of experience. He completed his undergraduate degree from Emory University, where he graduated Phi Beta Kappa. He graduated from the Mount Sinai School of Medicine in New York City. Dr. Terk then remained at Mount Sinai where he completed his residency training.
Dr. Terk is routinely recognized as one of the nation's top oncologists, most compassionate doctors, and is a regular patients' choice award winner.
Dr. Terk has published research on breast, gynecological, and gastrointestinal cancers. His special area of expertise is curing prostate cancer.
He and his partner Jamie Cesaretti founded Terk Oncology in Jacksonville Florida in 2012. Over the last 10 years, the center has continuously expanded its services in order to become the premier destination for prostate cancer care in the region. The center now offers Volumetric modulated arc tomotherapy (VMAT), prostate brachytherapy (seed implant), Stereotactic Body Radiosurgery (cyberknife like treatments) and Hypofractionated (accelerated) radiation for all risk categories of prostate cancer. Of note, he has personally treated more than 10,000 men with prostate cancer. He has been performing prostate seed implants since 1994 and has performed over 4000 seed implants in recent years.
EXPERT & EXPERIENCED: TALK TO A PROSTATE CANCER TREATMENT EXPERT
Get a second opinion on your prostate cancer treatment options from Florida Center For Prostate Care, your prostate cancer treatment experts.